Week 29, Title: Parchment
Posted on 2014.11.25 at 22:48
Nyrid tilts his chair onto its hind legs, eyeing the four large bags of post and shelves piled messily with scrolls, considering where to begin. Sighing, he chooses the largest of the bags, hoping that will at least give the sense of getting more done, and takes out a handful of letters. He forms three main piles at first; one of letters intended for the royal family, one of letters for other important members of the palace such as knights, nobles and guards, and one for the servants and unimportant palace inhabitants.
The servants' letters are placed on the shelves with some minor efforts to maintain a bundle for each person. The other two piles require much more attention. He flicks the letter opener over hardened wax, skimming letters quickly but carefully. He takes in much intricacy, the seal used and the care taken with it; the sender and the import they've placed on the letter, the nuance of wording and the placement of crests. Any unnecessary solicitations or nuisances must be gotten rid of, any urgent messages or correspondence from someone of great importance must be conveyed immediately. There are also those with certain seals that must not be opened at all until it reaches its intended recipient. Everything else is sorted into various piles ranked by importance of contents and sender.
It's work Nyrid is proud of, understanding all the hidden meanings, the usages of symbols, the hidden words between the lines. But when the piles are this high it's tiring and boring work.
Nyrid goes through the motions, working by rote, running metal over wax with steely efficiency, slamming each letter onto its respective pile with minimal required thought. Then he sees it. His entire body stills.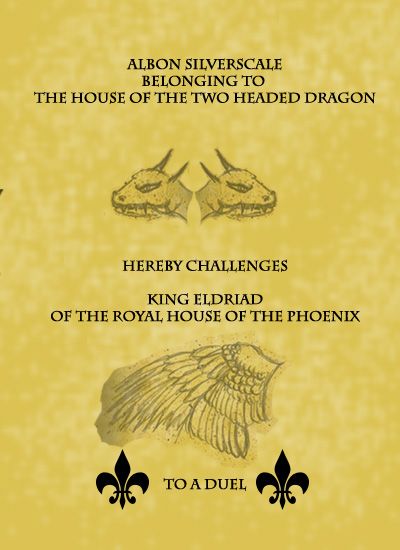 His hands spread over the parchment, as though framing the words between his fingers will change them, he blinks but everything remains. A challenge has been issued against The King. And by a legendary warrior no less. He contemplates what this may mean, what could happen, if The King falls The Kingdom will fall. The realm is too precarious at this time, no one knows this better than the one with eyes on all the correspondence.
The House of The Two Headed Dragon would introduce a corrupt regime.
Nyrid tries to calm himself, probably King Eldriad will win. He runs his index finger along the words. Flashes of red cloud his vision, swords clash, faces pale, blood spurts and pools, and he knows.
He feels sick, why him, why now? He has always had The Sight but it has never proven itself useful, showing him the stable-boy mucking out the horses or a knight getting drunk in the corner tavern, never anything of import. It seems a monstrous time to start. If The King fights this dual, he will die. Nyrid picks the letter up, fingers pressed firm against it, effort going in to not cause indentations.
Such a fragile thing, he thinks. He sits there for a long time, staring at dragon heads and a phoenix wing. Then he folds the piece of parchment and tucks it into his belt-pouch.
*
When in his chambers that night he takes out the accursed letter. Finger-tips run over the ink spillage, carelessness or a purposeful insult? Nyrid places it beneath his pillow. He dreams of blood and devastation, of crumbling kingdoms and The End. He wakes up and holds the letter for an age before placing it back beneath his pillow. He goes to work and returns home and does the same. Holding onto the letter like salvation and damnation conjoined. Days go on, pits under his eyes darken, the letter sits in his palms like a living creature, writhing ink shifting under his nails. It haunts him.
*
His decision is made; he leans towards the fire with a weary resignation, watching with relieved horror as the parchment catches alight.
He writes a letter of his own. It's not too much work to fake the royal seal; he's been asked to do it for legitimate means often enough. He places it in his satchel and mounts his horse, riding to Albon's Dragon-House. When he arrives he says he has a letter from King Eldriad and he must hand it to Lord Albon himself. Of course he's let through, they think him a harmless servant. He hands Albon the letter and stands there, claiming its to await the reply.
As soon as the Lord's focus is on the letter Nyrid slides the letter opener (freshly sharpened) from his belt and plunges it into Albon's throat.
*
There's uproar, people fluttering around in a panic, some guards roughly take hold of Nyrid while others try to revive the corpse. He's dragged to the palace and placed before The King.
Nyrid says nothing, and continues to say nothing through his trial and verdict. Standing on the gallows awaiting the hangman's noose, his silence remains. He holds parchment ash in his hand and sees the kingdom prosperous and alive.
He's at peace.
------
AN: As part of the trying something outside of our comfort zone challenge I decided to add a visual component to this piece. I made the parchment by layering shades of yellow in photoshop and using the eraser and I drew by hand the wing and dragon head.